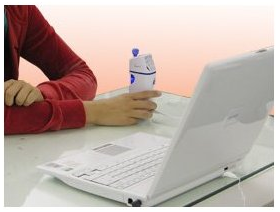 Hotel rooms are usually extremely dry so I went on the hunt for a small humidifier that I could bring with me on the road. I found the USB Humidifier by Thanko. Pretty cool item - it works like a charm. It's a Japanese domestic product but it recently started selling in the USA on Amazon.com
Product Description:
A lot of people have trouble with dry air in the winter. But it is quite a job to bring a humidifier to work. You might even have a problem finding an outlet to connect it. USB Humidifier can be a big help for you. You can easily connect this item by inserting the USB cable to your computer. It doesn't create heat even though it is turned on, so you can use it safely near your computer. This humidifier is easily connected to a computer by USB cable. It also can be powered by AAA batteries. It requires four AAA batteries to use without a USB connection. With that portable option, you can bring it with you to wherever you go. You can use it in a bedroom, car, bathroom, and etc. The possibilities are endless. You can take the cord off when you use it with batteries. You can close the nozzle on the top by sliding to the lock position. Once the nozzle is in the lock position, it will not spill water even if you accidentally tilt it. It is good security to have when you work with water near a computer. You can enjoy a great aroma when you put a drop of aroma oil onto the sponge inside of the nozzle. The nozzle part is designed to come apart. The sponge is inside of it. Just put a drop of aroma oil or your favorite perfume on the sponge and then set the nozzle back before starting the humidifier. Scented mist will start comforting you nicely. This item cannot humidify the whole room as the regular ones would, but you can keep your work area humidified enough to take care of dried skin and eliminate pollen.